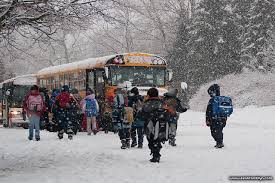 Each year the possibility of impassable roads, hazardous driving conditions, and mechanical breakdown of heating or water systems makes it necessary to plan for emergency school closures. The Manheim Township School District will be in session when the weather and road conditions allow for safe and timely bus transportation for student riders.
When weather forecasts indicate the possibility of hazardous driving conditions or impassable roads, the decision to close school will be made prior to 5:45 AM on the day of the closing. The decision will be announced periodically by WGAL – Lancaster (Channel 8).
Two-Hour Delays: In the event of a two-hour delay, bus pickup times will be two hours later than your regularly scheduled time.
Closing and Delay Criteria: The decision whether to open school on time, to call for a delayed opening, or to cancel school altogether is made by the Superintendent based on data received by Accu-Weather, state and local police, and municipal authorities. The Superintendent and the Transportation Coordinator test drive the roads and consult with administrators in neighboring districts for data sharing. The final decision is generally made between 5:00-5:30 AM. In rare, extreme circumstances the decision may be made the night prior to the closure.
Early Dismissals: Occasionally, weather conditions worsen and it becomes necessary to close school after a delayed opening has been announced. Please keep monitoring the news announcements.
If it becomes necessary to close school early during the school day, an announcement of this will be made by WGAL as soon as possible. If both parents work, or if it is possible that your child may arrive home alone, it is suggested that you discuss these situations with your child now. During emergency dismissals of this nature, the high school and middle school children will be dismissed first and the elementary school children last, unless otherwise announced. This arrangement will decrease the likelihood of having younger children at home alone. If the district schools are closed for the day, or close early, all district-operated transportation, including the transportation of non-public students, will follow the same schedule.
Information will also be available via the district's web site at www.mtwp.net.