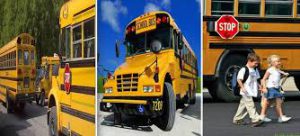 What if my student leaves something on the bus?
Call Brightbill Transportation at 717-519-1506.
What if I have a concern about a bus driver?
Call Brightbill Transportation at 717-519-1506.
What if I need busing information?
Call Matt Gillis, Transportation Generalist, 717-560-3114
Email: gillisma@mtwp.net or transportation@mtwp.net
What if I have a family emergency and need assistance with busing?
First call the school your student attends. The school will either contact Matt Gillis, Transportation Generalist, at 717-560-3114 or they will instruct you to do so.
What if I move after transportation has been provided?
Email the school(s) your child(ren) attend(s), and send an email to transportation@mtwp.net. A change of address form must be submitted to the child accounting department prior to any bus changes The MOVED-change of Address form is available under the Transportation Forms and Documents link.
What if I do not receive busing information prior to the start of school?
If you have not received information by one week before school, please email transportation@mtwp.net. Keep in mind that the information mailed is based on the address we have in our database at the time of the mailing. Information will be sent to that address in mid-August.
Why is there no drop-off time listed on the letter I received?
This is because there are too many variables, especially at the beginning of the school year. The first few weeks will require a longer ride home while drivers adjust to new routes.
Can I change the pick-up/drop off location for a bus stop?
If the requested location is on the bus route, the answer is yes. Simply send your student to the different stop. However, CREATING a new stop will take time and will NOT be considered during the first two full weeks of school unless it is an emergency safety situation. Send the request via email to: transportation@mtwp.net.
What if I feel the bus stop location is unsafe?
Call Matt Gillis at 717-560-3114 or email transportation@mtwp.net. Each concern will be investigated and a decision will be made as to whether a change is warranted.
PLEASE NOTE: Requests are acted upon a soon as possible. During peak times of year, we do experience numerous requests. Change requests are responded to based on the order in which the request is received. With the volume of requests we normally receive, you may expect a response within three weeks of receipt of your request.
Why do some children have to cross the street to board the bus?
MTSD is not able to route buses so that all children can board the bus on the door side. Students should always wait on the side of the street where they live and then wait until the bus has stopped traffic in

all

directions before crossing the street.
I leave for work early and can't watch my child get on the bus. Can't the stop be at my home?
To be consistent and fair in the placement of bus stops, MTSD is not able to establish stops based on personal circumstances.
The bus drives right by my home. Why can't it stop in front of my house?
We regularly receive requests for house stops. In many cases, we drive by the homes of our students. If we accommodate your request, in fairness to others, we would also need to honor similar requests. Additionally, every time a bus stops for student pickup or discharge, we increase costs and add a time factor to the route. If we add just a few additional bus stops, there is the potential to negatively impact the run, necessitating either a major route revision or adding an additional bus to ensure timely service to students.
I can't see my child from my house. What should I do?
For many parents, not being able to see their child from the home has been the norm. For younger children, we highly recommend that parents ensure their child's safety by going to the bus stop with the student or by sharing the responsibilities with other parents at the bus stop location. Student transportation safety is a shared responsibility between families and the school district.
Why is my child's bus late?
Weather, traffic, driver absenteeism and unforeseen incidents are responsible for delays in arrival of school buses. Please know that we do everything possible to have all buses running on schedule each and every day. In the event that your bus does not arrive as scheduled, contact the Brenda Moss at Brightbill Transportation at 717-519-1506 or Matt Gillis, MTSD Transportation Generalist, at 717-560-3114. Please allow 10-15 minutes before calling.
Why are there only a few students on some buses and my child's bus is crowded?
Decisions regarding each bus route are made by careful planning based on information from school registration and previously-used routes. Most routes are fixed in late summer. Distance from school and grouping of students and neighborhoods are all factors that are considered. Sometimes it is just not possible to have the exact number of students on every run.

Bus capacity is designed for three (3) students per seat.
We have opted to send our children to a private school. Transportation is the only service we, as taxpayers, request from the school district. Why don't our children have their own bus to their school?
MTSD services more than 32 private schools and, in many cases, the schools the district serves have a very limited enrollment of Manheim Township students. If the district provided every private school with its own bus, the district would not be using taxpayer dollars prudently. The MTSD school bus fleet could easily double in size. This would financially impact not only you, but also the other taxpayers in Manheim Township, some of which do not have school-age children.
What if I need special busing for my child who is in child care?
Child care busing will be provided ONLY for child care within the child's school attendance area. For example, if a child attends Bucher Elementary, busing would not be provided to another elementary school attendance area for child care. A bus info-request form (located under Transportation Forms and Documents) must be submitted prior to any bus changes.
What if no one calls me a back right away?
Please keep in mind that the start-up of every school year is extremely hectic since we are inundated with calls/requests. A message left via email is the most efficient way for Transportation to get all the information as well as respond to each inquiry/request. Each contact is noted and addressed. If it is not an emergency situation regarding a student's safety, the concern will be addressed at a later date. Generally, a response is made within two weeks after the start of the school year.
What if I have a kindergarten student in Envisions?
If you enroll a kindergarten student in the Envisions wrap-around program, you need to complete the Envisions busing form (available on our website or though the Envisions office). Once completed, your child will be assigned to a bus. This process takes at least 48 hours. Envisions will notify you.
If my student starts Envisions at the beginning of the year, will there be busing?
No. Envisions is requesting the change in busing for their students not be implemented until October 1 of the school year. This ensures Transportation will have time to efficiently make the change. In addition, it assures that Envisions will be familiar with the student and his/her transportation changes.
What's the procedures concerning joint custody?
In order to receive dual busing due to split parental custody, please provide the following information to Bette Oberle, Manheim Township School District, PO Box 5134, Lancaster PA 17606 — OR — transportation@mtwp.net:
A written request showing both addresses;
A copy of the most recent custody agreement, which needs to delineate 50/50 joint custody; and
A weekly schedule for student(s) utilizing two (2) bus routes.
Both addresses must reside within the same attendance area.
PLEASE NOTE: All items must be received by Transportation at least 10 days prior to the start date of any change. Otherwise, the parent listed as the primary custodial parent in our Student Accounting Database will receive the bus information.
It would be convenient for my work schedule if my child could be bused to his grandparents'/aunt's/sister's, etc. home two days a week. How can I arrange that?
What was once a nice thing to do, i.e., transport students to another's home on certain days or weeks to accommodate the parents' schedules, became a nightmare to track. In addition, the change of a pick-up or drop-off location sometimes altered the route schedule by as much as 10 to 15 minutes. This time variation caused great anxiety to the parents of other students and resulted in numerous, frantic calls to the Transportation Department office. This policy also prevented students from arriving at a location, only to find there was no one home because it was the "wrong" day.
Can my child ride another bus home to a friend's or a relative's house?
Students are NOT permitted to ride home on buses that are not their assigned buses. Emergency exceptions will be permitted as determined by building principals.
How do I know if there is busing for my non-public school student?
The first day of busing to non-public schools is the first day of busing for MTSD. Throughout the year, if non-public schools are in session, but MTSD is not, busing to non-public is provided. If non-public has an early dismissal, busing is provided in the morning, but not in the afternoon for those days. If there is a weather issue, MTSD busing schedule is following all 2-hour delays, cancellations, weather-related early dismissals.
How do I register a change of address?
A Change of Address form must be completed and submitted to our Child Accounting Department. Forms are available at the District Office reception desk or online here. NO CHANGES TO TRANSPORTATION CAN BE MADE UNTIL THE PAPERWORK IS RECEIVED BY CHILD ACCOUNTING.
What are Activity Buses?
Manheim Township School District provides an Activity Bus for students in Landis Run, the Middle School, and High School as a service for parents/guardians who may not be able to pick their student up after normal dismissal time on Tuesday and Thursday afternoons for clubs or other activities. It is expected that each rider conducts themselves with courtesy and respect to others, including the driver. All school rules are in effect for these rides and violation of these rules will result in suspension of these privileges.
As this is not a traditional bus run, (4) route areas are created by the intersection of Lititz Pike and Roseville Road. Students residing in the Northwest, Northeast, Southwest, and Southeast sections of the district will ride on a bus that services that area with students from all three buildings. As ridership changes for each one of these runs, the length of time the trip takes will vary. As the students board each bus, they will provide a pass that indicates their name and address. A school official's signature must also be on the pass for permission to ride. Any passes that are torn or illegible will require the student to return to the school building office to call for a ride home.
The bus drivers create different stops that will bring your student close to their neighborhood, but not at the same regular bus stop due to the distance that is covered. For example, students that may reside in a larger neighborhood may be dropped off at a central point or outer perimeter and will walk to their home from there. If a student refuses to disembark at the stop the driver deems closest to his/her residence, they will be transported back to the HS Main Entrance on campus at the end of the run.
Before using this service, please review this process with your student to determine if utilizing the activity bus is appropriate for your needs. If your student has a specific special need, please partner with the building before riding on the Activity Bus.