September 29, 2023
Today's "In-a-MinuTe" communication is focused on four items: (1) the wonderful U.S. News & World Report recognizing our high school, (2) Bucher students exploring their backyard stream, (3) high school students developing literary analysis through solving a mystery, and (4) Schaeffer students experiencing a leaf-hunt adventure.
U.S. News & World Report Recognizing our High School as #1 in Lancaster County! 
As you may have seen in yesterday's LNP article, the U.S. News & World Report has published the rankings of public high schools. We were pleased to learn that our MT high school was rated as the #1 public high school in Lancaster County for the 2023-24 school year! Additionally, our high school ranked #58 in the state.
There are several factors involved in the ranking process used by the U.S. News & World Report:
College readiness, based on the proportion of 12th grade students who took and earned a qualifying score on at least one Advanced Placement or International Baccalaureate exam

State assessment proficiency

State assessment performance by underserved students

College curriculum breadth, based on proportions of 12th grade students who took and earned a qualifying score on AP and/or IB exams in multiple content areas

Graduation rate
A special thank you goes out to our teachers, staff, and administrators for their continued commitment to ensuring all students receive an excellent education at MTSD. 
Bucher Students Exploring their Backyard Stream
Despite the damp weather, the third graders at Bucher Elementary School enjoyed the opportunity to explore their backyard stream. Sallie Gregory, Educator Coordinator for the Lancaster County Conservation District, guided students through a series of learning activities focused on the stream's health, and helped them identify macroinvertebrates in the water. The students especially enjoyed catching and releasing the crayfish.
High School Students Developing Literary Analysis Through a Murder Mystery
High school Teacher Dylan Kranch led his English class through an immersive murder mystery adventure that ignited students' enthusiasm and critical thinking. With a meticulously crafted "crime scene" reenactment, students became part of the storyline as they worked together to gather and document evidence. Armed with this evidence and insight from multiple briefings, they crafted narrative descriptions which eventually led to "cracking the case." The students used their skills to engage in literary analysis and prepare for their research papers.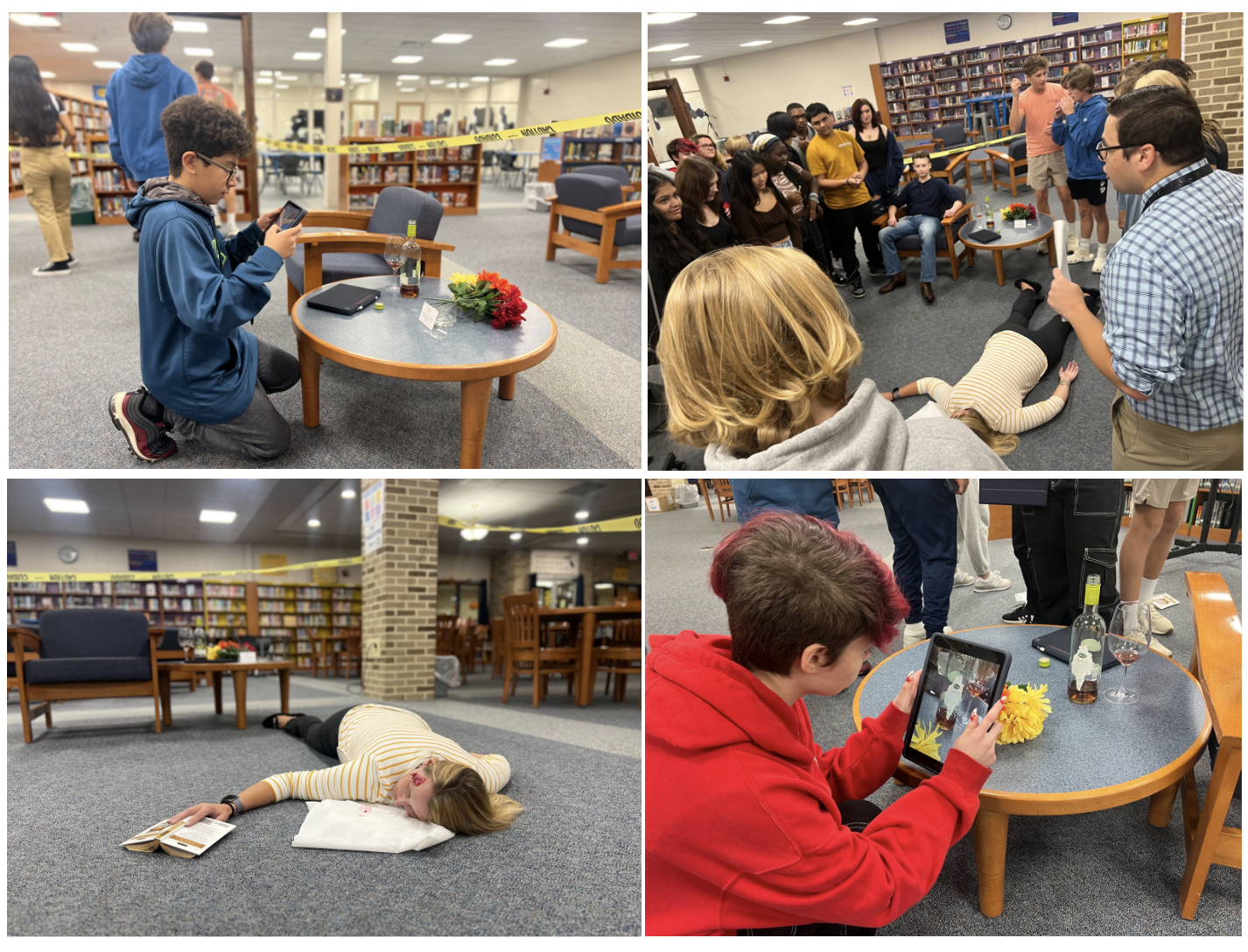 Schaeffer Students Experiencing a Leaf-Hunt Adventure 
Teachers Angeline Bertuola and Allison Zell brought their first and third grade classes together for a special mission – a leaf hunt! The students spent time gathering fallen leaves, and convened in the STEM Lab to analyze and discuss the unique characteristics of their leaves. This engaging experience not only fostered teamwork and mentorship but also provided a hands-on learning opportunity that inspired the young explorers.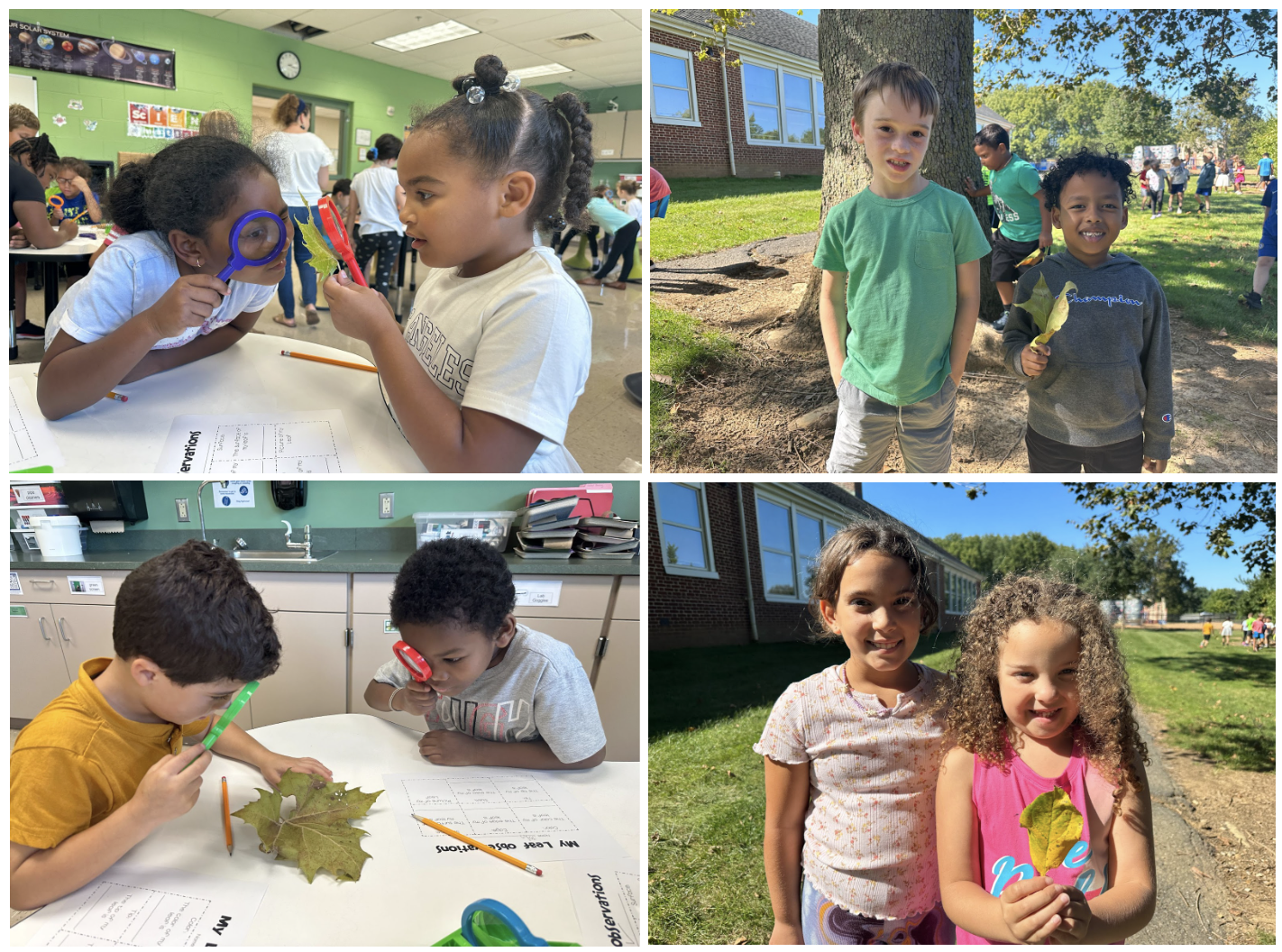 ---
September 22, 2023
Today's "In-a-MinuTe" communication is focused on three items: (1) Neff Elementary PBIS kick-off assembly, (2) Dot Day at Reidenbaugh Elementary, and (3) fun with taste-testing at Brecht Elementary.
Neff Elementary PBIS Kick-Off Assembly
Neff Elementary School kicked off their PBIS (Positive Behavioral Interventions & Support) initiative in style, creating a memorable assembly that left everyone buzzing with excitement! To set the stage for a fantastic year, they called upon the beloved Neff mascot, "Neffy" the lion, to help convey the school's expectations.
Most importantly, the assembly featured a meaningful discussion about the school's core values: respect, responsibility and safety.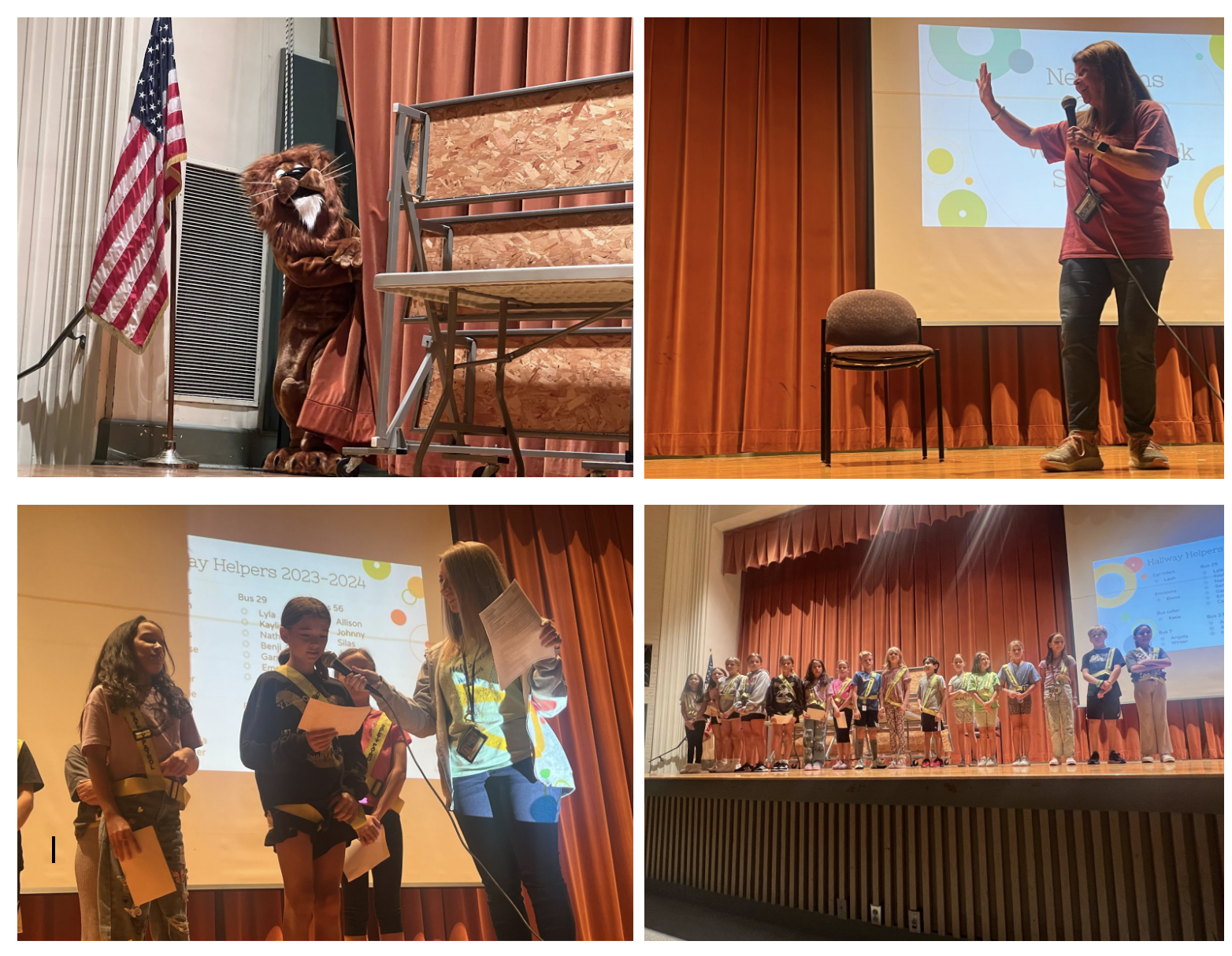 Kindergarten "Dot Day" at Reidenbaugh
The kindergarten students at Reidenbaugh recently had an exciting day centered around the book The Dot (by Peter Reynolds) – a heartwarming story of a teacher encouraging a doubting student to embrace her abilities and "make her mark." They explored various dot-related activities that fostered creativity, courage, and collaboration. As they proudly displayed their dot-inspired creations, they understood that making their mark is a lifelong journey filled with endless possibilities.
Fun with Taste Testing at Brecht Elementary 
The students at Brecht Elementary School had fun when given the opportunity to taste test some locally grown food. Kristen Feaga, the school district nutritionist, made a special visit to Brecht Elementary for her "taste test series." During the visit, every student from kindergarten to fourth grade had the opportunity to see, touch, taste and smell a variety of green, red, and yellow sweet bell peppers. Pictures from Brook Lawn Farm Market were displayed to showcase the different types of peppers. Students learned the process for how peppers grow locally.
These taste tests give children an opportunity to try new, healthy foods – and can positively impact their preferences for and consumption of fruits and vegetables.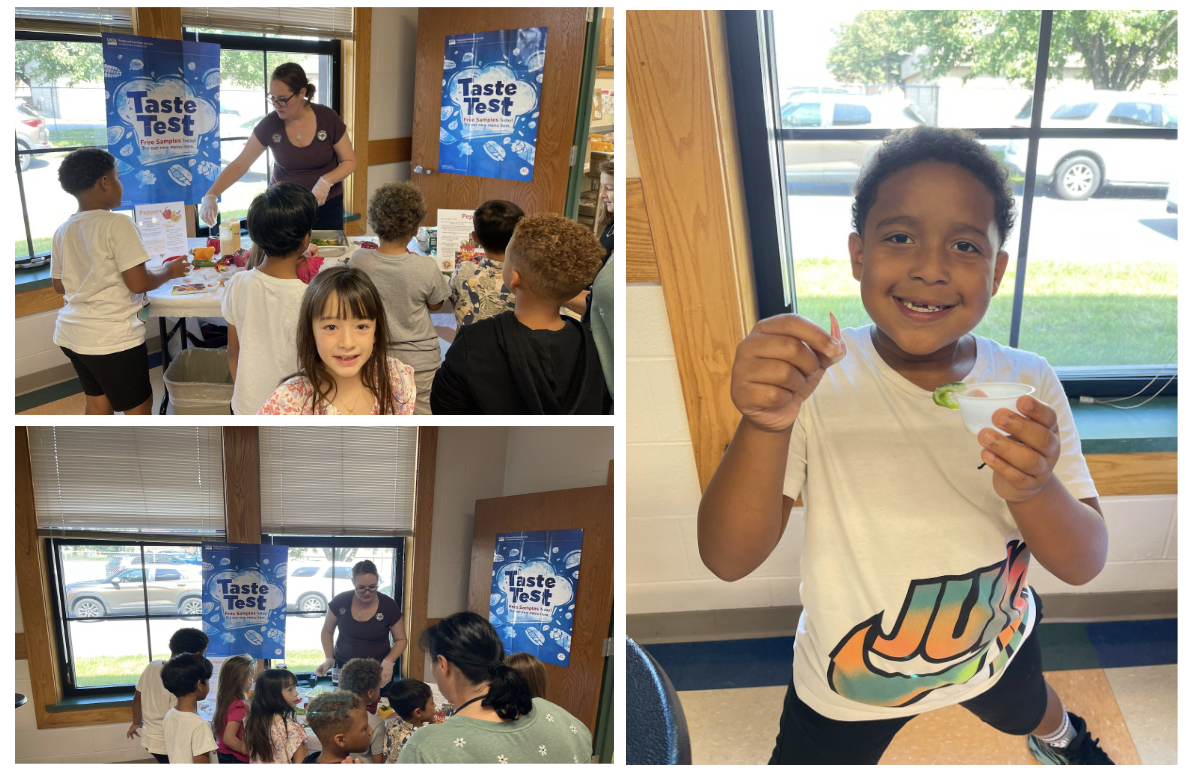 ---
September 15, 2023
Today's "In-a-MinuTe" communication is focused on three items: (1) our elementary Back-to-School Nights, (2) singer/songwriter Jesse Eisenbise's visit to the middle school, and (3) creative self-portraits at Nitrauer.
Elementary Back-to-School Nights
The K-4 Back-to-School Nights were a success! For the 2023/24 school year, the elementary schools transitioned to a Back-to-School "Open House" format – a less structured/scheduled format – in hope to promote attendance and engagement. The drop-in format and the ability to attend with children allow families to come when it works for their busy schedules. Providing a resource fair during the Back-to-School Night gave families the opportunity to be connected and receive assistance from our specialists, technology staff, and others with accessing school, district and local resources. The teacher mini-presentations offered information about curriculum, volunteer opportunities, important dates, etc.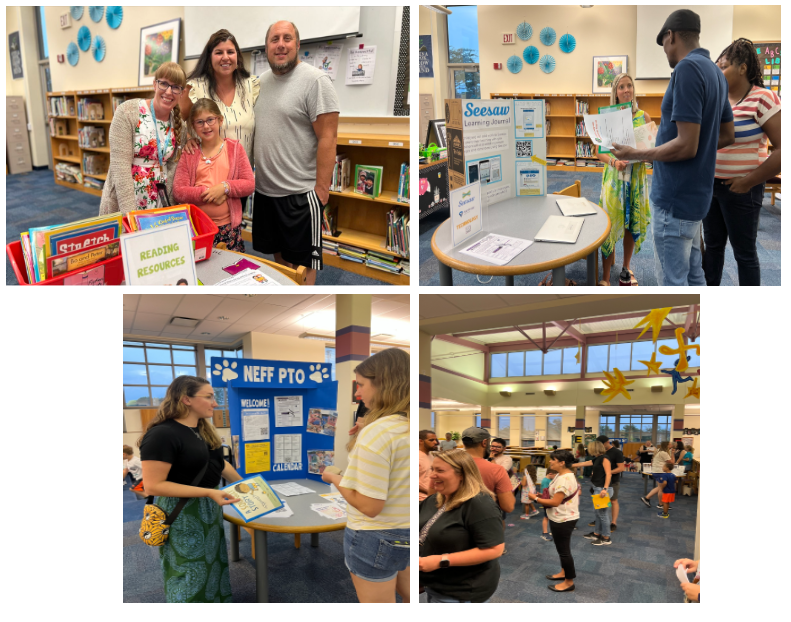 Special Visit by Jesse Eisenbise to the Middle School
Middle school music teachers Rachel Swank and Laura Gingerich extended a warm invitation to Jesse Eisenbise, lead singer and songwriter of the acclaimed bluegrass band, Colebrook Road. This visit provided an extraordinary music experience for the students. During Jesse's visit, students were treated to captivating live singer/songwriter sessions. These sessions provided a fun opportunity for the students to craft songs based on specific themes, which Jesse then performed. Here is a short video of his visit with our students: Jesse Eisenbise visit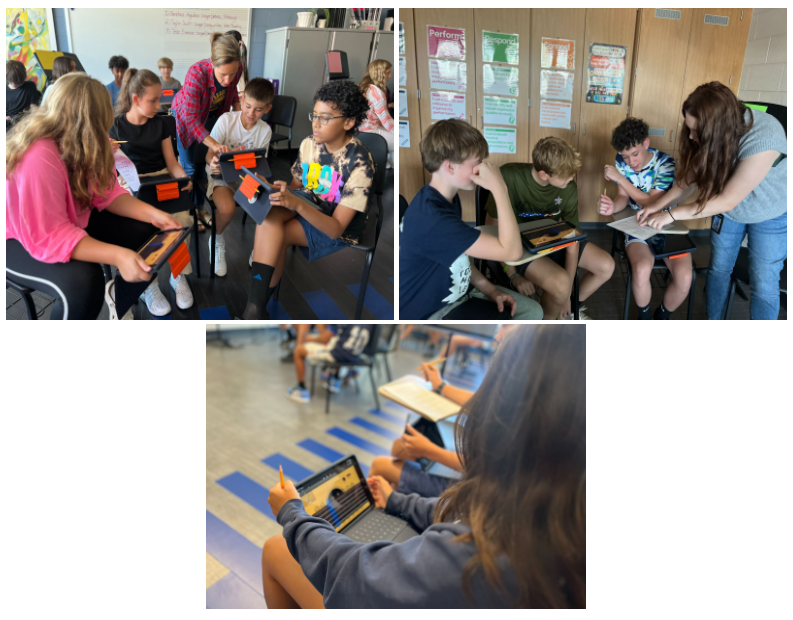 Creative Self-Portraits at Nitrauer
First grade teacher Jill Milton recently offered her students a wonderful opportunity to unleash their creativity by crafting beautiful self-portraits. Under Jill's guidance, our budding artists embarked on a journey of self-expression using various artistic mediums to bring their unique selves to life on canvas. The results truly showed the artistic talents and individuality of our students.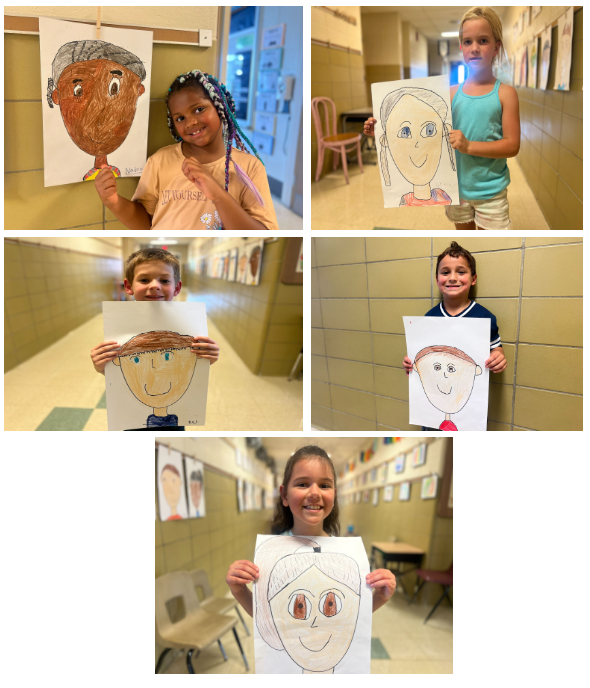 ---
September 8, 2023
Today's "In-a-MinuTe" communication is focused on four events: (1) Nitrauer Elementary's Back-to-School "Color Days",  (2) Bucher Elementary's PBIS Kick-off Assembly, (3) the "Walk a Mile in My Shoes" event at the Landis Run Intermediate School, and (4) the High School Athletic Hall of Fame.
Nitrauer Elementary's Back-to-School "Color Days"
At Nitrauer Elementary, students and staff  kicked off the school year with a unique tradition – the Back-to-School "Color Days." Each day is designated as a specific color day – no color is left out of this tradition! On a recent "Color Day," the entire school community arrived at school dressed in vibrant shades of blue. What a wonderful way to bring their school community together!
Bucher Elementary's PBIS Kick-off Assembly
Bucher Elementary School recently launched their PBIS (Positive Behavioral Interventions & Support) initiative with a lively kick-off assembly that left everyone excited! The assembly featured a surprise staff  Bucher Dance Flash Mob,  'Minute to Win It' games, and a discussion about the school's values – respect, responsibility and safety. Enthusiasm filled the gymnasium as students cheered on their peers and teachers. The assembly set the tone for a positive school year, with a focus on unity and shared values.
Landis Run Intermediate School "Walk a Mile in My Shoes"
More than 900 fifth and sixth graders at Landis Run participated in an empathy-focused activity that promoted deep understanding of perspective-taking. As the students circulated among shoeboxes filled with student and teacher scenarios, they embarked on a journey to imagine what it might be like to 'walk a mile' in someone else's shoes. Following this powerful exercise, students took time to reflect on their experiences in the classroom in an effort to promote empathy and understanding among the school community.
High School Athletic Hall of Fame
As shared in a district-wide email this week, the MTSD Athletic Department proudly invites interested individuals to the upcoming Athletic Hall of Fame recognition that is scheduled to occur this evening (September 8) during half-time of our home varsity football game. The recognition will shine a spotlight on the outstanding accomplishments of the following inductees:
2023 Inductees:
David Nguyen '95 (In Memoriam, award to be received by his family)
Lacy Smith '15
Reilly Gearhart '16
Kristine Harclerode-King '03
Kim Harclerode '05
Mark Linn
In addition to celebrating the achievements of the 2023 inductees, the recognition will also pay tribute to a 2019 Inductee:
We are looking forward to commemorating these exceptional individuals. Go Blue Streaks!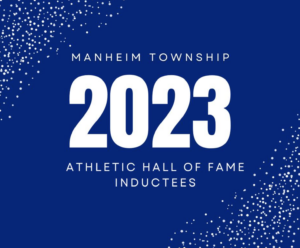 ~ Dr. Robin L. Felty, Superintendent 
---
September 1, 2023
We hope the first week of the 2023/24 school year has treated you well. As we dive into the academic journey ahead, we're thrilled to bring you the latest edition of Dr. Robin L. Felty's weekly district update – MT "In-a-MinuTe". This communication aims to keep you informed and engaged with the exciting events and activities unfolding in our district. 
Fall Kick-off and Literacy Fest – "Read with the Blue Streaks!" 
On Tuesday, August 22nd, the students and families of MTSD gathered for a fun evening of reading at our Fall Kick-off and Literacy Fest "Read with the Blue Streaks." The event brought our community together around literacy – a great way to begin the school year! 
During the evening, families and students selected a free book and bookmark while enjoying soft pretzels – thanks to the generous donation from Lancaster Sunrise Rotary Club. The high school marching band provided some wonderful music, adding to the excitement of the evening. Students were able to get their faces painted by the high school Key Club while their families visited with several community partners: the MT Library, MT Police and Fire Departments, Lancaster Emergency Management Agency, MT Parks & Recreation, Owl Hill Learning Center, Community Action Partnership, MT Educational Foundation and the Brethren Village Retirement Community. We were also grateful to Lancaster Cupcakes for providing a sweet treat.
The evening ended with our fall season student athletes and performance teams reading books with students on the stadium field – and even showing some fun "sports moves." It was a fantastic night.
Thank you to Sharon Schaefer, ShaiQuana Mitchell, Tim Hollenback, Jessica O'Gorman, Joshua Stehman, Nicole Rieker, Karen Quinn, and all of the volunteers who made this event successful!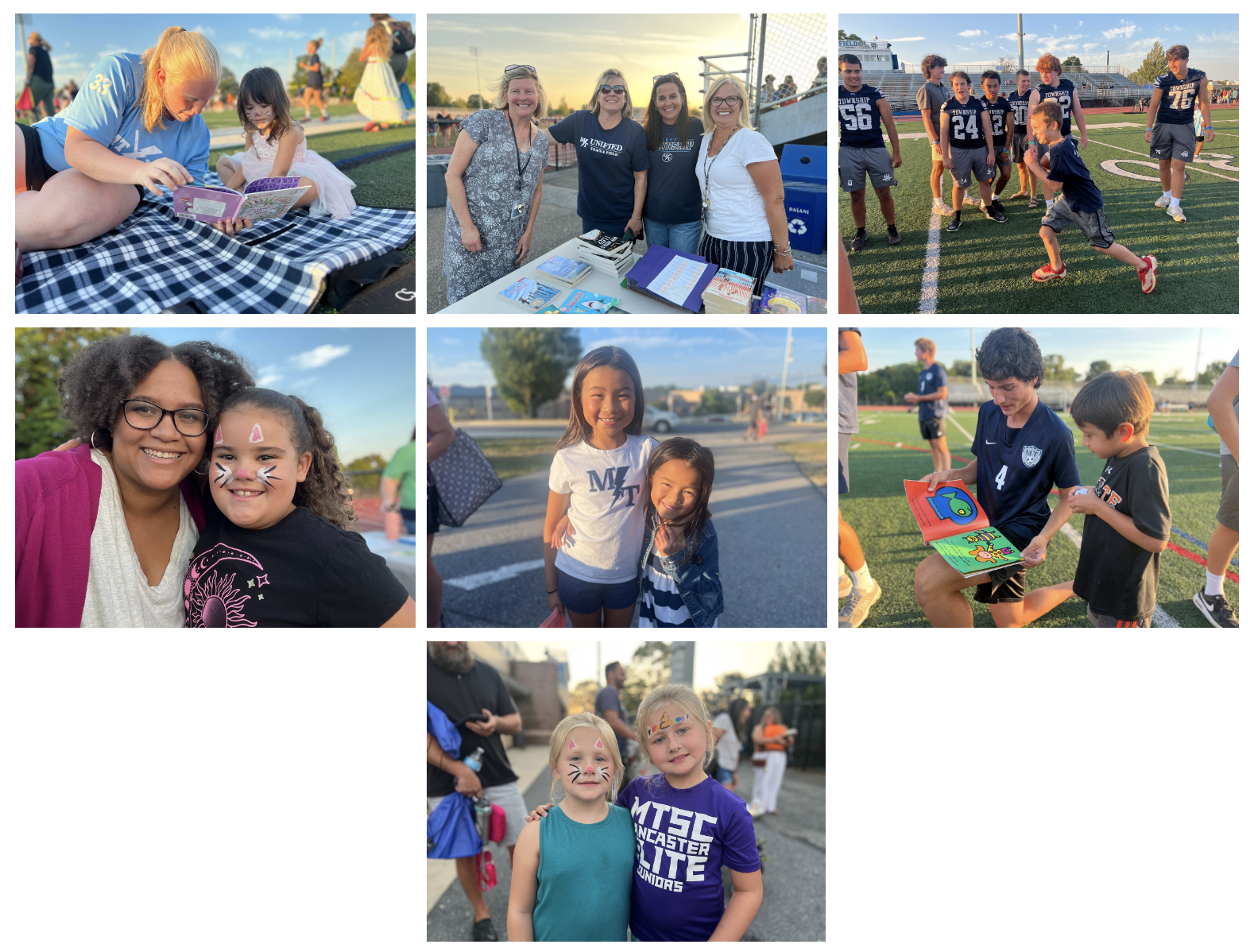 MT Senior Sunrise
On an early, beautiful morning this week, the high school Class of 2024 came together with their blankets and light refreshments to start their senior year by watching the sun rise as a group. 
As the sun slowly appeared on the horizon, everyone stood side by side, creating a sense of unity. The "Senior Sunrise" represents the beginning of a new day and the start of their final year in high school. It is the perfect opportunity to pause and appreciate the moment. The sounds of conversations and laughter filled the air as they shared this meaningful experience.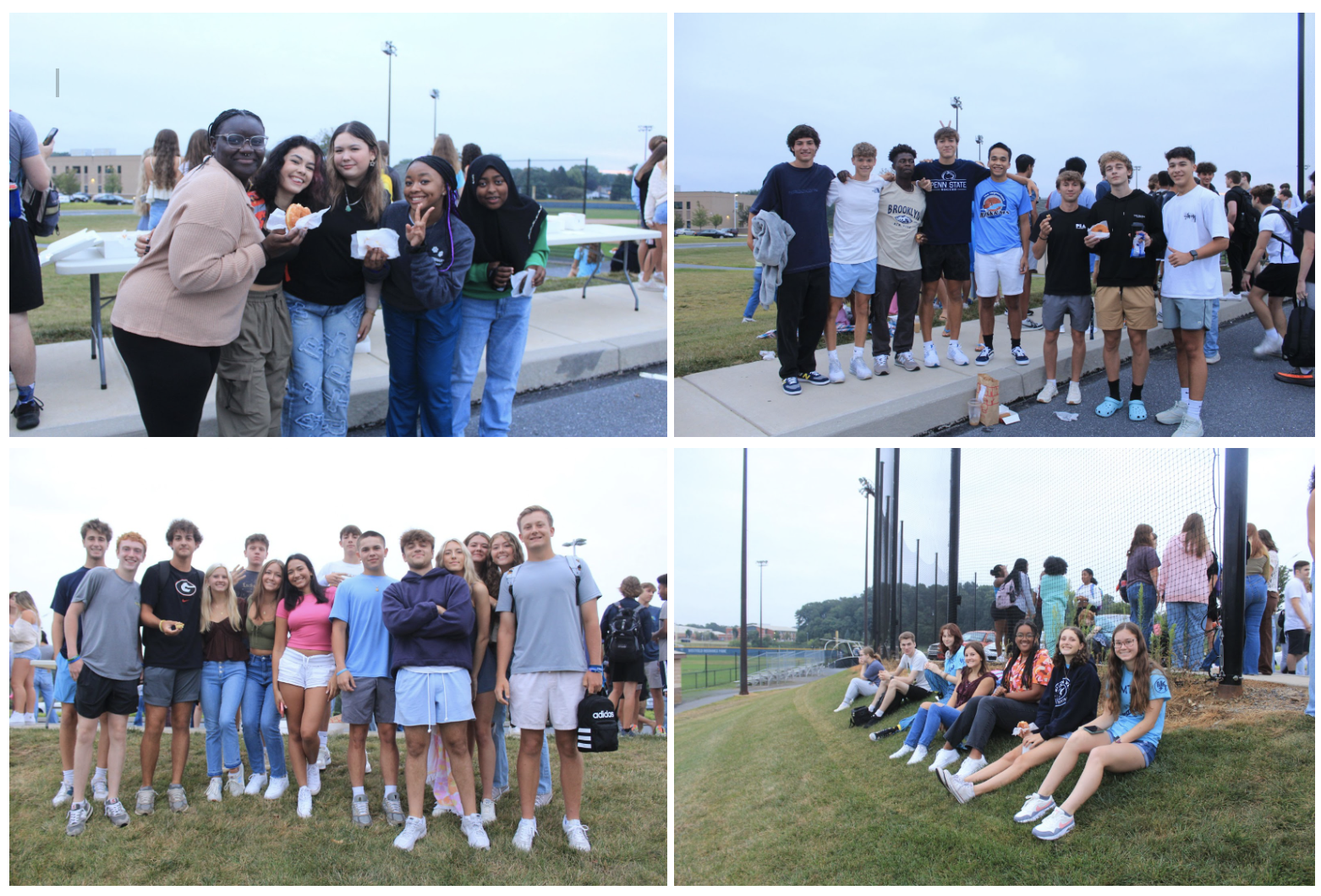 Middle School W.E.B. Transition Program
On Monday, August 28th, the 8th grade W.E.B. leaders welcomed new students to the middle school at the annual W.E.B. orientation – and it was a fun event for everyone! The "Where Everybody Belongs" (W.E.B.) is an exciting program that welcomes incoming 7th graders and new students to the school.. The goal of the program is to create a smooth transition to middle school, making sure students feel comfortable during their first year.
The day started with an assembly to greet the 7th graders. Our 8th grade W.E.B. student leaders and the two W.E.B. coordinators – Kesha Musser and Alyssa Krepps (teachers at the middle school) – led the activities throughout the day. After a few whole group activities, students were split into smaller groups where they played games, took a tour of the building through a scavenger hunt, and spent time getting to know each other.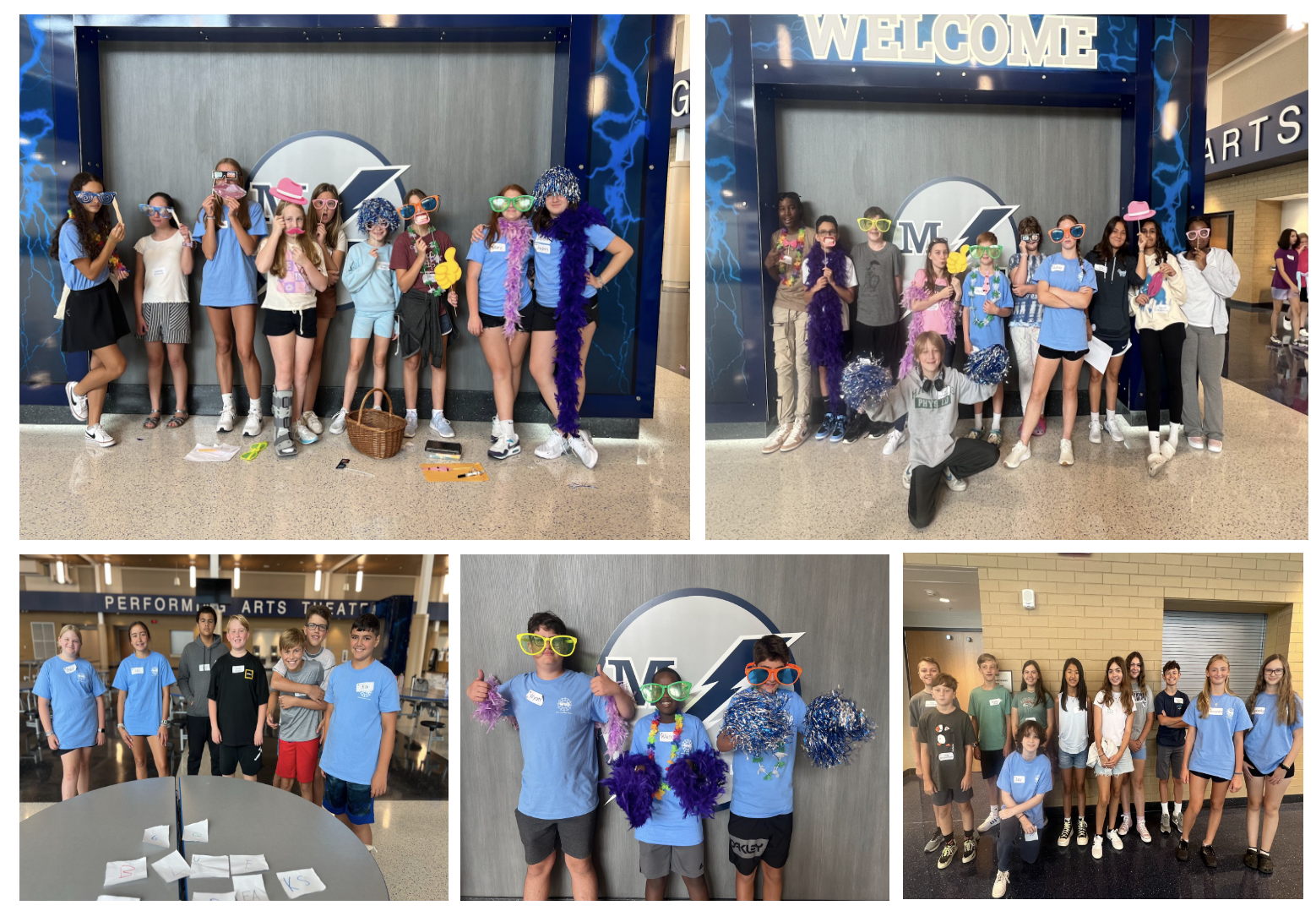 Link Crew Freshman Orientation
Another exciting orientation occurred on Monday, August 28th. More than 100 Link Crew student leaders gave a warm welcome to incoming freshmen and new students. This transition program is designed to help students make a positive transition from middle school to high school.
After dividing the freshmen and new students into small groups, the Link Crew leaders facilitated ice breaker games, and shared information about the high school and their own personal experiences. It was a wonderful opportunity for everyone to make connections and build new friendships. 
The Link Crew leaders and our high school teacher-advisors, Nicole Eshelman, Jennifer Deibler, Christopher Houck, and Elizabeth Ziegler brought enjoyment to everyone through the many different Link Crew activities.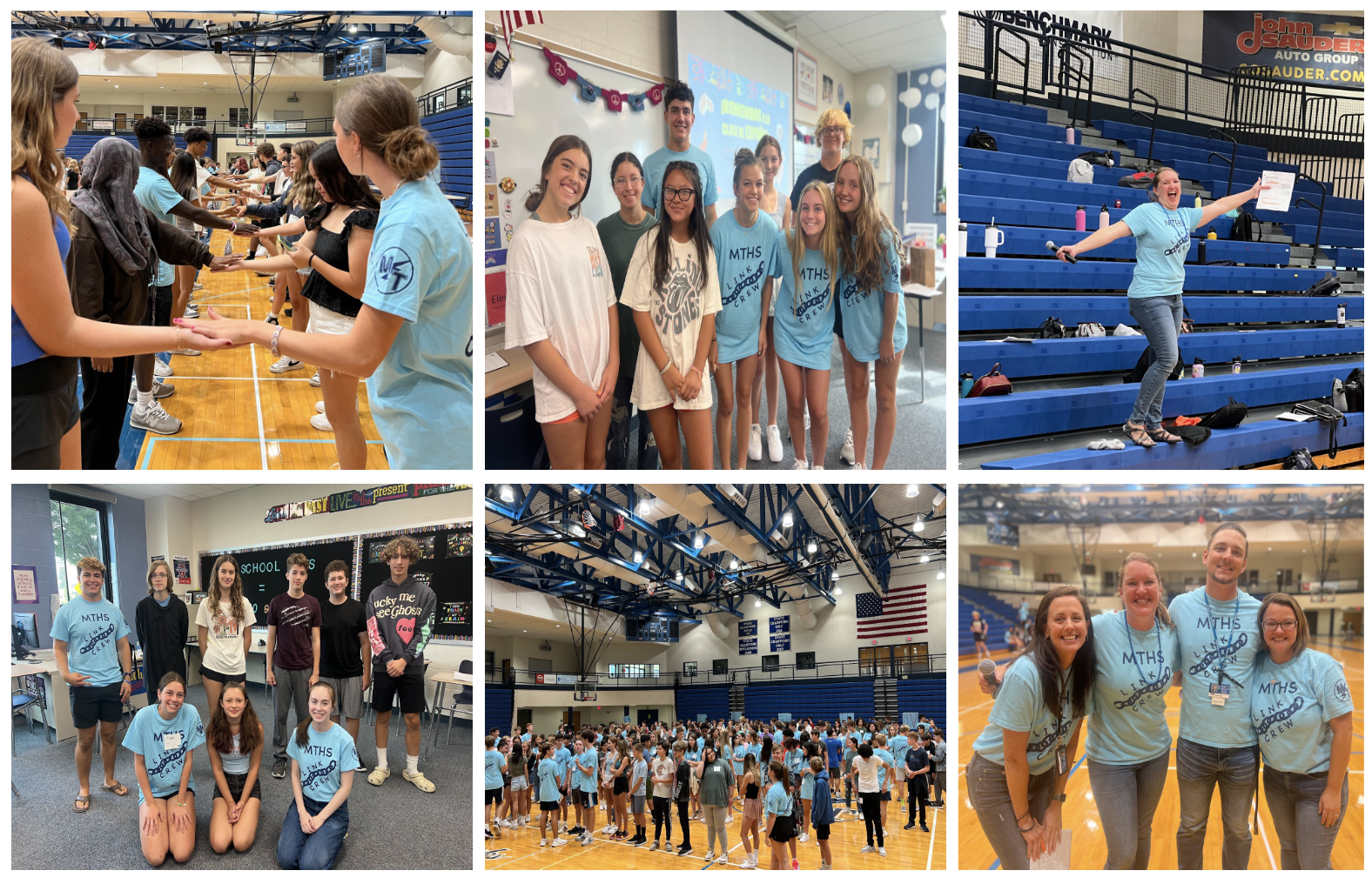 ~ Dr. Robin L. Felty, Superintendent