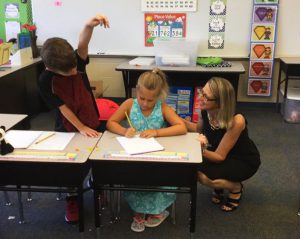 Welcome to the Manheim Township School District! We are proud of many things in our district, from the comprehensive academic programs offered to students in kindergarten through twelfth grade, to the vast array of co-curricular and extracurricular opportunities. These academic programs are housed within six elementary schools (grades K-4), one intermediate school (grades 5-6), one middle school (grades 7-8), and one high school (grades 9-12). The Manheim Township School District experiences educational excellence in all of its schools, with student achievement recognition occurring at the state and national levels. Our success as a district exemplifies the strong support for our students from staff, parents, and the local community.
We are committed to the improvement of our organization, and welcome ongoing open communication with families and the community. This feedback contributes to the continuous cycle of improvement, especially as the district works toward attainment of the mission and established strategic Comprehensive Plan goals. The mission statement of the district - Nurture and Challenge for Success – sets the direction for educational programming and guides the decision-making processes within the organization. The district is steadfast in the work toward achievement of the three Comprehensive Plan goals:
Implementing effective instructional strategies district-wide incorporating 21st century learning and innovation skills;
Addressing barriers to student learning in order to increase student achievement & graduation rates; and,
Ensuring academically at-risk students are identified early and are supported with needs-based interventions.
We continue to hold high expectations for all students, providing supports when needed. These high expectations involve preparing our students to be college and career ready after graduation as they enter a competitive world.
I am honored at the opportunity to lead the school district into future years of continued scholastic achievement, building upon the existing character, culture, and programs that bring success to students. Together, as a team, we will do great things for students.
Sincerely,
Dr. Robin L. Felty
Superintendent