Healthy Roster
Step by Step Guide
Step 1: Complete the Healthy Roster Sign Up Form
Click HERE or scan the QR code to complete the form

You must complete a separate form for each of your children that wish to participate on an MT athletic team
Once you complete the form, the Athletic Trainers will manually enter your information into the Healthy Roster System

It may take up to a few days for the athletic trainers to manually enter your information into the system, due to limited summer office hours.

After the Athletic Trainer's manually enter your information into the system, you will receive an automated email to whichever email address you entered into the google form.

Again, this step may take a few days due to limited summer office hours for the Athletic Trainers.
Step 2: Follow the instructions in the automated email to create your account
You will receive an email with the subject line "Join Manheim Township School District on Healthy Roster" from noreply@healthyroster.com.


Take note of the code in your email
Click on the phrase under the code that states "Click here to sign up via the website"
Enter the code found in your invitation email

This code is specific to each athlete!

Click on "I need to Create a new account"


You only need to create ONE account, each of your children will be linked to this one account.

Follow the prompts to create a password and then click "register" at the bottom of the page
Agree to the Terms and Conditions and click "Next"
Answer the security questions in order to protect your account and then click "Save Answers."

Make sure you can easily remember the answers to your security questions!

Agree to the Terms of Use and Click "I agree"
Step 3: Adding Athlete and Emergency Contact Information
Once your account has been created, you should see each of your children's profiles on your main screen. You must edit emergency contact details in EACH of your children's profiles!
On the main screen, scroll down until you see "Athletes." This will show you each of your children's accounts. Should one of your children's profiles be missing from your account, please email the athletic trainers for help!

Next, click on the name of the athlete you would like to edit first.
You will now be brought to that athlete's home screen. This is where you will be able to view their injuries, upload documents, add them to a team, etc.



Select "DETAILS" in the taskbar, and then select "Edit Athlete Details" on the right hand side of the screen.
Please be sure to add "General Medical Details" which include any daily medications your child takes, their allergies, and any health conditions!
Also be sure to add/edit demographic information, address, insurance information, and TWO emergency contacts.
ENSURE THAT YOU COMPLETE THESE STEPS FOR EACH OF YOUR CHILDREN!
Step 4: Adding Your Athlete to their Team
While in your athlete's profile, select "Manage Teams" from the taskbar
Select "Add Team" for any team your child has interest in participating in for the coming school year
Please add your child to a team, even if they are not certain they will be participating. This will allow coaches to send out information to all those interested in trying out. Once final rosters are set by the coach, the Healthy Roster team will be edited to remove those who did not try-out or make the team.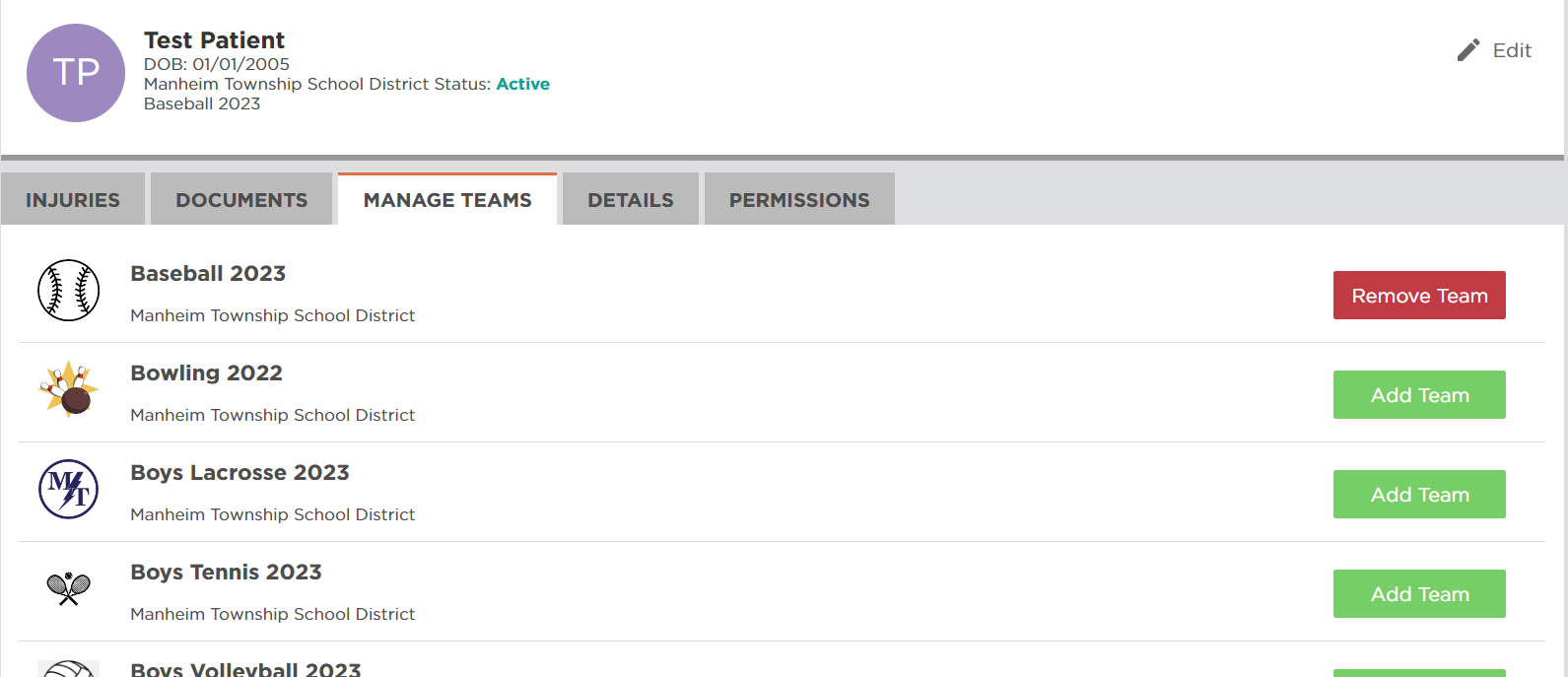 You have now finished creating your account! Submitting PIAA CIPPE forms will not go live until June 1st 2023. June 1st is the earliest date in which PIAA forms may be signed and submitted. Additional help videos, step by step guides and information regarding submitting PIAA CIPPEs will be posted prior to June 1st on the MTSD Athletics Website
---
Video Instructions
How to Submit your PIAA CIPPE - Section 1
How to Submit the PIAA CIPPE - Sections 2-5
Explaining the Sections of a PIAA Physical
Uploading Section 6 of the PIAA Physical